Yamaha Zuma - best value in a low cost Japanese Scooter?
If you want a scooter that you can buy and get serviced and repaired at a local dealer and that you can get fixed even if you're far from home, you pretty much have to stick with a scooter from one of the "Big Three" Japanese scooter manufacturers, Honda, Suzuki and Yamaha. All three have a nationwide dealer network.
Suzuki really concentrate only on the large Bergman series of "maxi scooters", with the smallest being the $5950 400cc Bergman 400, so I'm ruling them out for low cost. Honda make some small scooters (50cc models) at prices from $2050 to $2400, but with the next jump being to a 250cc $5350 model (the Reflex)
That leaves Yamaha, and Yamaha have both small 50cc scooters and a larger 125cc scooter. The Zuma 125 is $2999, which is a lot less than the next model up from the 50cc models of Suzuki and Honda
.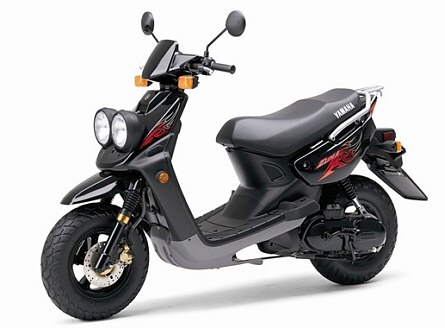 Yamaha Zuma 50cc, 123mpg, $2199
The Yamaha Zuma scooters have an individual look, with their dual headlights and "tough" look. At $2199 the 50cc Zuma is affordable and Yamaha estimate the gas mileage at 123mpg!. It has a two stroke engine, which probably gives you a little more power than a 4 stroke would, though top speed is still likely to be under 40mph. If you bought a Chinese scooter from a distributor you'd probably end up paying about $850-$1000, so you'll pay an extra $1200 for the Yamaha Zuma, but you'll get a more reliable scooter with a real warranty and real dealer service.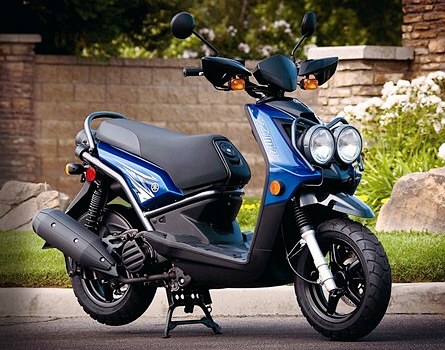 Yamaha Zuma 125cc, 96mpg, $2999
The Zuma 125 is only an extra $800 but gives you significantly better performance while still getting great gas mileage (Yamaha estimate 96mpg). The Zuma 125 has a 4 stroke engine with 4 valves and fuel injection and should reach 55-60mph. A Chinese 150cc scooter (two valves and a carburetor) would probably cost you around $1200 - $1400, so the Yamaha Zuma 125 would cost you an extra $1600-$1800, but again you get a more reliable ride, a full 12 month warranty and dealer support pretty much anywhere in the country
So based on looks, price, performance and features, I'd say that the Yamaha Zuma scooters are a very interesting choice and the 125cc model is unique among current Japanese scooters available in the USA in being under $3000 but over 50cc. Whether you chose the 50cc or 125cc model depends on your needs, but I'd certainly go for the Zuma 125 if you intend to do anything more than city riding.