How Much does a Scooter Cost?
That's a difficult question. You can probably find one of the cheapest Chinese 50cc scooters for around $800 if you buy it on eBay, but you won't get much in the way of dealer suport and you really can't be certain exactly what will show up in the crate that gets dropped off at your house.
If you buy a 150cc Chinese scooter from a website, you may get equally little support or you may get some sort of rudimentary support (a guy on the phone). You should get some sort of warranty on parts, but the parts may not be in stock. You can expect to pay somewhere in the $1200 - $1400 range including shipping.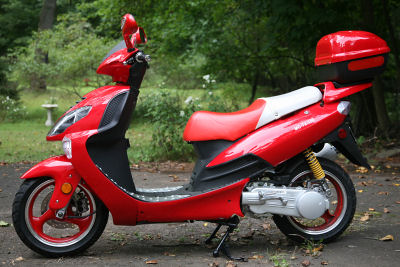 Chinese 150cc Scooter - Price around $1300 (delivered)
For a 250cc Chinese scooter prices are typically in the $2000 - $2500 range depending on the dealer and model. Again, support is likely to be fairly minimal. It comes in a box and you put it together. That may just be adding the mirrors and battery, but some may requires you to install the front wheel and other parts.

If we move to the Japanese and Italian scooters which are sold through authorized dealers, the price goes up significantly, though the scooter will come fully assembled and tested, probably registered with the state, and you will get good support (well, you'll get support which may or may not be good). For a 50cc scooter expect to pay around $3300 for something like a Vespa LX 50, which is a "classic" small scooter or something like $3000 for an Aprilia SR50 (fuel injected two-stroke) which is a little more sleek and modern looking. The classic Honda Metropolitan 50cc sells for around $2000.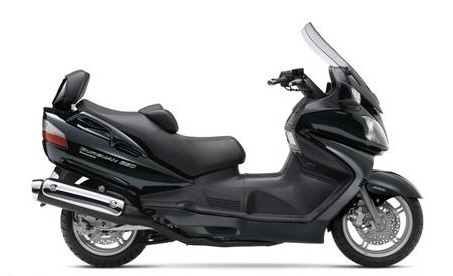 Suzuki Bergman 650 - $9000
Going up to a 250cc, for something like an Aprilia SportCity 250 expect to pay around $4600, or $5400 for a Honda Helix. If you go to larger scooters like the Honda Siver Wing (580cc) you'll pay $8100 ($8600 with true APS braking). The 400cc Yamaha Majesty sells for around $6100 and the Suzuki Bergman 650 will cost you $9000.
So you can see why Chinese scooters are so popular. Despite lower quality control and little or no after sales support, the cost is between 25% and 50% of a similar sized scooter from Italy or Japan.