Brighter Scooter Headlights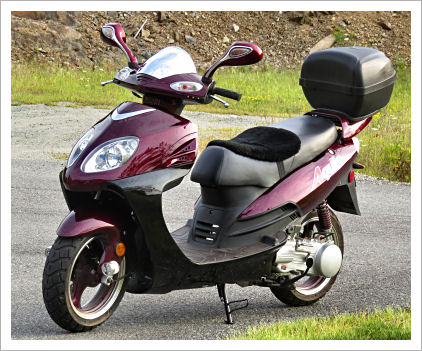 I've switched between 50cc and 150cc scooters a number of times, based on what was available to me and what my needs were. Least year I was riding a 50cc Kymco scooter which did quite well for a 50cc model. I bought it so that a friend without a motorcycle license could also ride it (no motorcycle license required here in Maine). However this year I switched to a 150cc scooter. The increased performance is striking. No more 20mph up steep hills. No more riding along the edge of the road being passed by traffic. A 150cc scooter really is a lot nicer most of the time.
The scooter I switched to was a Shanghi-Shenke manufactured YY150T-12. This is a "Hunter/Eagle" type chassis scooter. It comes (or cane, since it's not a new scooter) in a variety of flavors. Similar scooters may be found under such names as Vento Phantom, TNG DR150, Tank Racer, Roketa Fiji, Falcon, Lance GS-R 150, Baja SC150, Jonway Epsilon 150, JMstar Eagle, Moto Fino MF150QT-10D Longbo LB150t-12 Adventure, Yiben Cool Classic, MotoMojo Taz 150, Jonway 150T-12, YY50QT-12.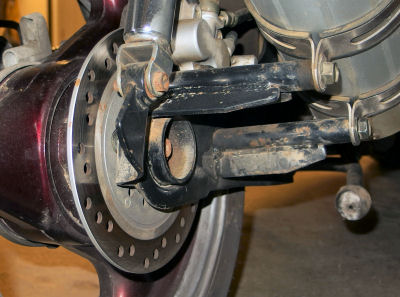 A rather unique feature of the scooter I bought is that it has both front AND REAR disc brakes. The vast majority of scooters have a front disc brake and a rear drum brake. The rear disc brake is noticeably stronger than a rear drum brake and is a nice addition. I wasn't particularly looking for this feature, but the used scooter I found just happened to have it. Otherwise the YY150T-12 is pretty much a "run of the mill" Chinese scooter with a typical GY6 150cc engine. It does have dual 35W headlights, but as I describe in another article (Scooter Headlights), they are fairly miserable at lighting the read ahead. Definately not something youd want to depend on for riding in the dark. The same can be said for most scooter headlights though.
Additional Resources