Review - Oxford Bone dry Boots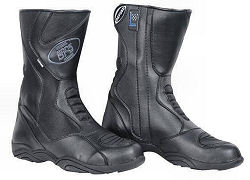 Earlier this year I found myself in the UK for a month and having nothing better to do I visited a number of motorcycle and accessory stores to see what they had in the UK that we don't get here in the USA. One store I visited was GhostBikes in Preston. Nice store with friendly staff. Anyway, to make a long story short, I ended up buying a pair of Oxford Bone-Dry leather boots.
For maximum safety when riding you can't beat a pair of good leather boots. The Oxford Bone-Dry boots are pretty simple but provide good shin and ankle protection in addition to being both waterproof and breathable. They have both a zipper (which means they are quick to put on and take off) and a velcro closure which keeps the zipper protected and provides additional protection against water.
Some motorcycle boots can be uncomfortable to walk around in, but the Oxford Bone-Dry boots are pretty comfortable. I wouldn't want to go hiking in them, but there's no problem in walking short distances with them on. The soles grip well (which is essential if you want to keep the bike/scooter upright!) and they do seem like they would be waterproof (but I have not tested them in the rain). The fit is very comfortable for me. The boots don't "pinch" and when fully closed by the zip and the velcro the fit is snug and my feet don't "move around" in them.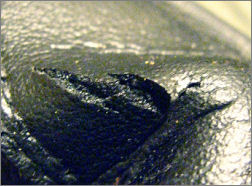 I was very pleased with the boots for several months, but then I noticed that in the areas in which the boots flex, the leather was starting to crack on both the left and right boots. Since I bought them in the UK I couldn't return them to the store I bought them from to see if they could be classified as "defective". The cracks seem to be quite deep and I'm worried that if they progress they will penetrate the thickness of the leather.
Some internet sources suggest that lower quality leather originating in China is particularly susceptible to cracking but I don't know if this is true (or if the Oxford Bone-Dry boots use Chinese produced leather). Whatever the cause, the cracking after only a few months use was disappointing. I intend to follow up with Oxford to see if they have any comments on this issue. It's a pity this problem showed up since I was otherwise very pleased with the boots.
Oxford Bone Dry Boot Features
Flexible padded instep & back
Reinforced ankle protector
Full-length zip/velcro storm flap
Reinforced counter/shank
A HIPORA waterproof breathable membrane
Check out the helmets, jackets and gloves section of the Scooter Store for more suggestions.

Additional Resources