Review - Fieldsheer 4 Season Pants Review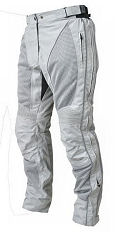 This summer has been really hot here in New Jersey, with most July and many August days in the 90 degrees and some days over 100 degrees. While it's tempting to ride in shorts, it's just not sensible to do so. In even a small accident you don't want any skin to come into contact with the road. The best solution in these circumstances is probably a pair of textile mesh motorcycle pants. This type of pant has protection built in for critical areas like knees and hips, is resistant to abrasion in areas likely to contact the road, but has an open mesh structure in other areas which allows free flow of air to help keep the rider cool.
Since I'd been happy with my Fieldsheer Mercury Pants in cooler weather I decided to try a pair of Fieldsheer 4 season pants. As the name implies, these aren't just for hot weather. They have a removable quilted liner which can be used when the temperature drops. They aren't as warm in really cold weather as the FieldSheer Mercury pants and they aren't waterproof, but that's not their purpose. They're designed for riding in hot weather in the summer as well as cooler weather in the fall and spring and even some cold weather winter riding (as long as you don't live in Alaska!).
In order to further minimize heating, I chose the "silver" color rather than black. I normally take 33" waist pants but I went with a 34" waist since I intended to use the 4 seasons pants as overpants some of the time. As an overpant they are snug, but not too snug to be uncomfortable. The only drawback of the silver color is that they tend to show dirt and oil a little more then the black ones would, but they clean up quite well with a sponge and a little detergent.
Overall I've been very happy with the Fieldsheer Four Season pants. The fit and finish are good. The zippers and fasteners seem high quality and the air flow through the mesh panels certainly helps to keep the rider cool. The material seems to be abrasion resistant and I like the knee armor and hip padding for impact protection. If you like to ride in hot weather and you want to be as well protected as possible without overheating, the Fieldsheer Four Seasons pants to a good job at a reasonable price.

Main Features of the Fieldsheer Four Seasons Pant
Ultra-breathable Polytitanium Mesh Outer Shell
1000 Denier DuPont Teflon Coated Maxtena in High Impact Areas For Added Abrasion Resistance
Anatomically Fitted For The Riding Position
Removable and Adjustable CE Approved Armor In The Knees With SP Memory Foam In The Hips
Full Length, Removable, Rip-Stop, Water-Resistant, Quilted Liner Can Be Worn As A Separate Pant
Velcro And Elasticized Waist Band For Maximum Comfort
Stretch Panels Above The Knees, Crotch And Thighs
Reflective Phoslite For High Visibility
Full Length Leg Zip With Lower Velcro Enclosure. Easy To Pull On Over Boots
2 Front Zipped Pockets
8" Waist Zip (Attaches To Fieldsheer Jackets)
Check out the helmets, jackets and gloves section of the Scooter Store for more suggestions.

Additional Resources