The BMW C Evolution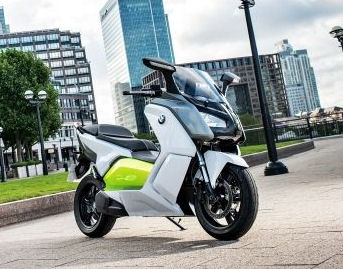 BMW are getting into the electric scooter game with the C evolution, an all electric sibling to the C 600 Sport and the C 650 GT scooters.
The C evolution has a liquid-cooled electric motor and air-cooled high-voltage battery. Range of 100 kilometres (62 miles) under practical conditions. Power is transmiited via a toothed belt. Power output is 11 kW (15 hp), with a peak output of 35 kW (47 hp). Claimed top speed is 120 km/h (75 mph, electronically limited) and acceleration 0-60 is in the 6 second range. Recharge time from a 220v outlet (12A) is around 4 hours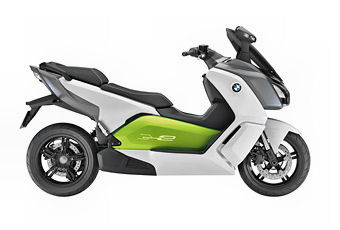 The C evolution has 4 ride modes, Road for maximum performance, Eco Pro for maximum economy (i.e. maximum range), Sail mode which doesn't regenerate the battery while coasting (leading to a smoother ride) and Dynamic which allows maximum acceleration but uses maximum regeneration when coasting and braking.
The C evolution has disc brakes front and rear with ABS. There's also Torque Control Assist, which prevents rear wheel spin (similat to Automatic Stability Control on some conventional BMW motorcycles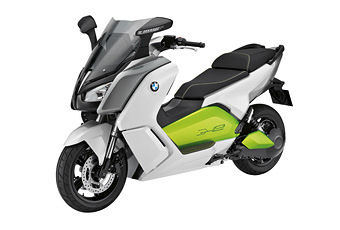 The highlights at a glance:
• Innovative electric drive system via drivetrain swing arm with liquid-cooled permanent magnet synchronous motor, toothed belt and ring gearing.
• Rated power output 11 kW (homologated according to ECE R85) and 35 kW peak output.
• Maximum torque 72 Nm (53 lb-ft).
• Top speed 120 km/h (75 mph).
• Acceleration 0 – 50 km/h (31 mph) in 2.7 s.
• Acceleration 0 – 100 km/h (62 mph) in 6.2 s.
• High range of 100 kilometres (62 miles) in practical operation.
• 4 ride modes available to choose from: Road, Eco Pro, Sail and Dynamic.
• Reversing aid for supremely easy manoeuvring.
• Torque Control Assist (TCA).
• High-voltage battery with high capacity of 8 kWh and innovative air cooling.
• Intelligent recuperation when coasting and when braking.
• Recharged from the domestic mains supply.
• Takes just 4 h to charge to 100 % capacity at 220V / 12A (220V / 16A = 3 h).
• Synergies with BMW Automobile harnessed during development.
• Electrical safety to passenger car standards.
• Hybrid chassis with agile handling due to low center of gravity.
• Powerful braking system with ABS.
• Large TFT color display.
• LED daytime running light and sidelight.
• Inspirational color scheme and design.

No word on price yet and it will first be released in Europe. It's expected to be available in the USA next year. Given the prices of the conventionally powered BMW scooters I'm sure it will be on the high side of $10,000 though.