Review - Teknic Mercury Leather Jacket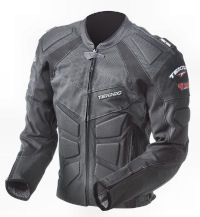 Sooner or later everyone who rides a scooter or motorcycle has the urge to buy a leather jacket. They look cool, but their most important feature is that they are highly abrasion resistant and the good ones have extensive impact protection, so in case of an accident they'll provide very good protection against both impact and abrasion.
Leather can be hot in summer so many of today's leather jackets are available with perforations. These are very small holes which will let a small amount of air through. Not enough so that you feel any wind, but enough to provide ventilation and keep you cool when the temperature rises.
I chose a Teknic Mercury jacket for a number of reasons. It looked good, it has a perforated leather design to keep the rider cool, it has excellent elbow and shoulder protection, as well as a back protector and padded areas over the clavicles, ribcage, lower spine and upper arm. The padding isn't thick, but in case of an accident, every little bit helps.
The perforation really does work. Even when temperatures hit the 90s, the jacket is still quite confortable as long as the bike is moving. Sitting stationary in traffic in the sun there's no air flow and so you do heat up a bit, but you would in almost any jacket. There's no jacket liner, but in cold weather I wear a thin windbreaker under the jacket and stay quite warm.
The jacket is very comfortable while riding since it's specifically cut for the riding position. I'm 6ft and around 170lbs and I found the size 42 jacket to be a good fit for riding. When walking around it feels a bit stiff, but it's a jacket for riding in, not walking around in. The finish is good, the seams look strong and I like the styling. All in all the Teknic Mercury is a jacket I can recommend.
Motorcycle Superstore
carry Teknic jackets.
Teknic Mercury Leather Jacket Features
Features: Knox® Lite CE protectors in elbows and shoulders. Lightweight Sretch Cordura® panels. Double row stitched main zipper for increased strength.
Outer Shell Materials: 1.2 – 1.4mm goatskin. Stretch Cordura® panels.
Inner Materials: Airtex™ anti-bacterial, non-allergenic nylon mesh.
Armor / Fitment type: Knox® Lite CE elbow protectors in Advanced Armor Pockets™ Knox® Lite CE shoulder protectors in mesh lining pockets.
Foam padding in: clavicles, ribcage, lower spine & upper arm.
Spine Guard included: Amorshield spine guard.
Specific Details: Fully perforated. Nylon shoulder vents 2nd layer of cowhide in elbows & shoulders.
TASC™ stitching system. Double row stitched main zipper for increased strength.
Rear shoulder blade stretch panels.
Seamless Full Motion™ arm stretch system. YKK® nylon coil zippers.
YKK® full circumference connecting zipper.
Belt loop snap and 8" YKK® zipper also included.
Soft touch tricot lined collar, with neoprene rolled edge.
Reflective rear piping detail. Hook 'n 'loop adjustable waist belts.
Two cotton lined pockets. Internal mesh pocket.
Check out the helmets, jackets and gloves section of the Scooter Store for more suggestions.

Additional Resources